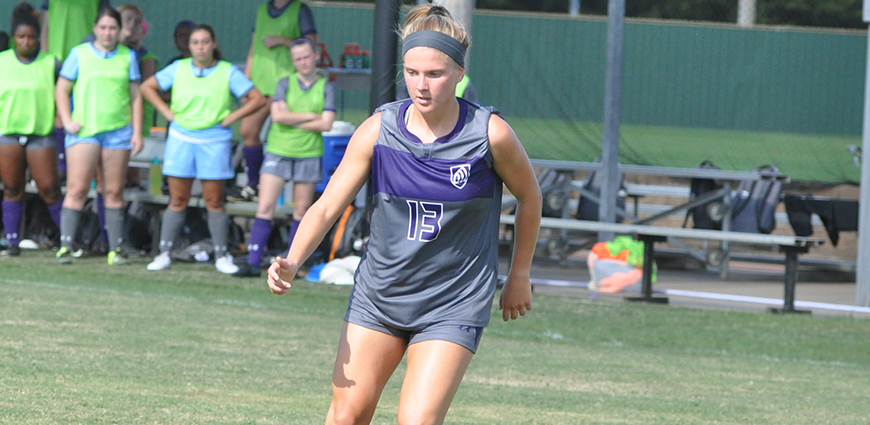 GAME DETAILS
McMurry University 2, University of the Ozarks 1
Records: University of the Ozarks (3-5-2, 1-4-1 ASC), McMurry University (3-7-0, 1-3-0 ASC)
Saturday, Sept. 29, 2018
Abilene, Texas | Wilford Moore Stadium

THE BASICS
McMurry University won its first conference match of the season by scoring two goals in the second half and held off the Eagles when Madison Chaney scored in the 82nd minute for a 2-1 win. After a scoreless first half, McMurry recorded a goal in the 65th minute to take a 1-0 advantage. McMurry then added another goal in the 74th minute on a penalty kick, but the Eagles answered with a goal in the 82nd minute to trim the deficit to 2-1. Following the goal, the Eagles were unable to generate a shot. The Eagles had four corner kicks in the match and totaled seven shots. Kiara Henry had three saves in goal.
SCORING SUMMARY
64:13 - Calista Flores (Cristen Lumbreras)
73:49 - Angelica Navarro (unassisted)
81:25 - Madison Chaney (unassisted)
KEY STATISTICS
McMurry scored two goals in the second half after a scoreless first half.

OZARKS STARTERS
Kiara Henry, Joey Long, Madison Chaney, Katherine Zamora, Breanna Aguilar, Rebecca Peterson, CJ Burns, Christina Waddle, Olivia Allard, Falon Hanson, Angelica Najera
OZARKS SUBSTITUTES
Camyren Antu, Micaela Winters, Georgia Warren, Skylar Brown, Makayla Davis, Amber Taylor
EAGLES' NEXT MATCH
The Eagles will host Sul Ross State October 6.